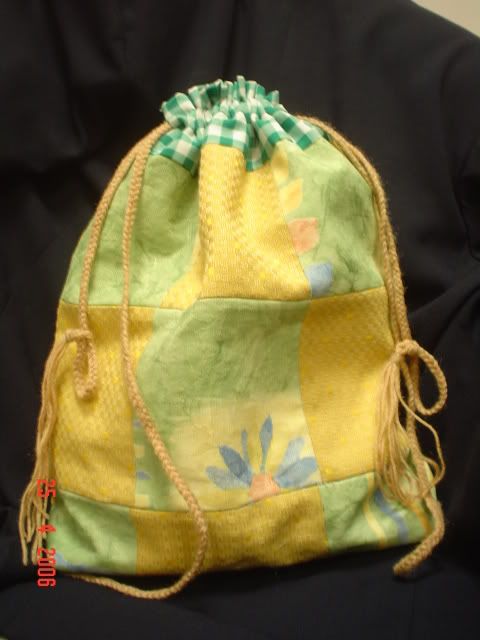 I always love patchwork & quilt.. wanted to learn to do them in a proper way. Instead M stuck to cross-stitching for this 2 years b4 I went for my PW & quilt class. As I said to a stitching friend b4, once U R hooked to cross-stitching, there's no way out.. U won't find your way back home LOL !!!

I had done my patchwork once, a blanket for my elder son. But Mom took it to hometown, as she likes it so much. Yeahh M happy that Mom like it. Wish I cud make a proper nice patchwork blanket for her one day.

Now after 2 years, M tempted to try on patchwork again. This time round, I decided to do a patchwork drawstring bag for my elder daughter, Chacha. It's kind a mad decision, where I start hunting for the fabrics from my collection at 6 p.m. Cut them in pieces & patched them back. With a help from online tutorial, I start my drawstring bag project. Took a break at 8 pm to prepare dinner, b4 start it back straight away at 9.30 p.m. I didn't realized it wuz already 2.30 a.m. when I've finished my patchwork drawstring back 100%. Well, I've to admit that my workmanship not that good but M juz more than happy when I saw my daughter's smiles when pass it to her. In return, my other 4 children requesting theirs… !!!